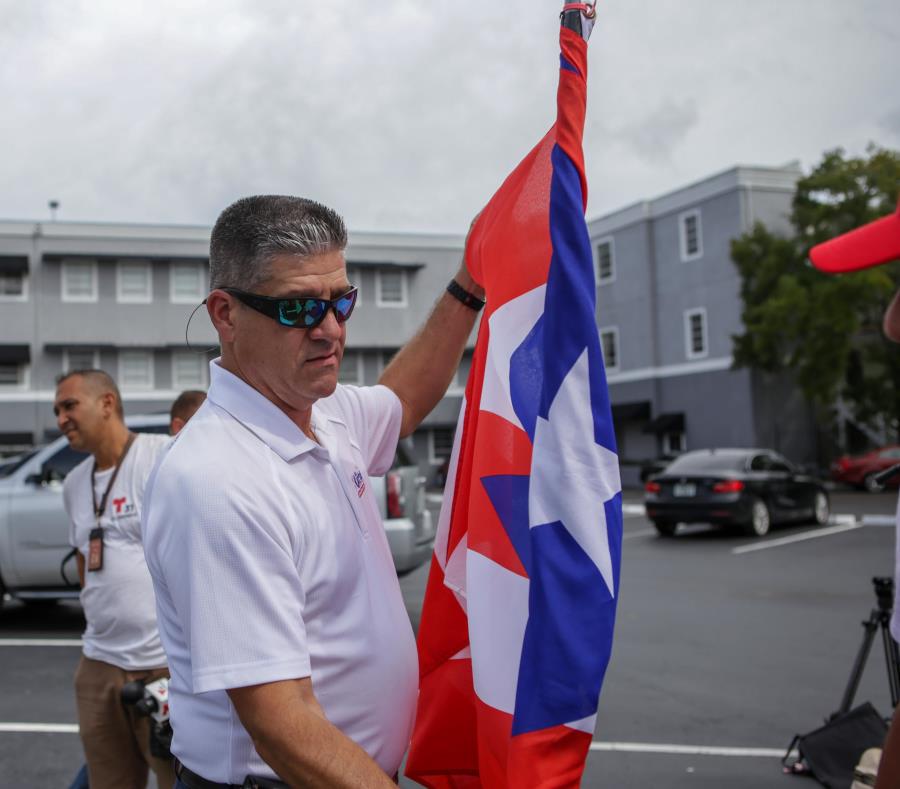 Orlando, Florida - The preliminary number of Puerto Ricans registered as voters in Florida is a concrete sign of the strength of a group that- by having fresh in mind the tragedy that Hurricane Maria caused on the island and the response of federal agencies- will use its votes to settle accounts with politicians who aspire to be elected.
"Puerto Ricans in Florida feel more patriotic than ever, and they will make accountable those who have hesitated with Puerto Rico," said Luis Figueroa, president of PODER (Power), a digital platform established in Florida by the governor of Puerto Rico, Ricardo Rosselló, as a tool to encourage the Puerto Rican vote and register voters.
Marcos Vilar, executive director of Alianza for Progress - which groups half a dozen community organizations in Central Florida - estimated that about 77,000 Puerto Ricans have been registered since the summer.
Meanwhile, Figueroa said that through the PODER website (https://www.poderpuertorico.org) ads encouraged 7.8 million people to register. Of that total, 31,000 people took action to register.
"If 285 votes were the difference between Darren Soto and Tony Suarez in the 2007 election, imagine what 77,000 could do. We only need 10 percent of that amount to change an election in a state where 1,000 votes can make a difference," he said.
Figueroa added that Puerto Ricans in Florida have a historic opportunity: "We can choose the next US senator, the governor of the third state with the largest population and, in the future, the next president, since 2020 elections are coming", he added.
For Florida state representative, Puerto Rican and Republican Bob Cortés, the reports on the growing militancy of Puerto Rican voters is very good news. However, he explained that the important figure is not the number of people the organizations registered, but the final accepted number by the Florida Supervisor of Elections.
He explained that, in these processes, between 15 percent and 20 percent of registered voters are usually rejected for errors when filling out the information, unreadable signatures, because the person was already registered as a voter or because they do not meet the requirements to be a voter in Florida.
"If a person registered and was not delivered a voter card, it is possible that their application had some problem and was rejected," Cortés said. If this is the case, the citizen should contact the Supervisor's Office in his county
Rosselló, one of the voices that has led the calls for Puerto Ricans in Central Florida to register, said yesterday that the long-term vision is for the Puerto Rican vote to have a significant impact on both Congress and the federal Executive branch so "everyone knows that the actions taken against Puerto Rico have consequences."
He indicated that the next important step is for these registered voters to go out to vote and that a constant Puerto Rican mobilization like the one structured by Cubans in South Florida will eventually be instituted.
"The goal is not only to go to Florida, Pennsylvania or Texas, as was done on this occasion, but to go to all the states where there is a significant Puerto Rican population and to demonstrate in Washington that we have political power. Only this way will a space be opened to the important issues of our people and to the main claim that is the elimination of colonialism in Puerto Rico," he said.
Jimmy Torres Vélez, spokesperson for the Boricua Vota (Puerto Ricans Vote) organization, said that he received a message from someone in Port St. Lucie - two hours from Orlando - saying he was outside the radius of action of the communities that were campaigning to recruit voters.
"He told me that he had not been able to register, he wants to do it and he asked us for help. People are excited everywhere," said the community leader.
Torres Vélez said that there are other organizations that have also been registering voters and whose numbers are unknown.
"The surprise on election day can be a big one," he said.
Yesterday was the last day for Florida citizens to register as voters. However, for residents of the extreme northwest of this state, where Hurricane Michael is heading, an additional day was granted by order of Secretary of State Ken Detzner.
However, the Democratic Party filed a lawsuit against the state requesting that the registration period be extended even more in the face of the weather emergency.
💬See 0 comments