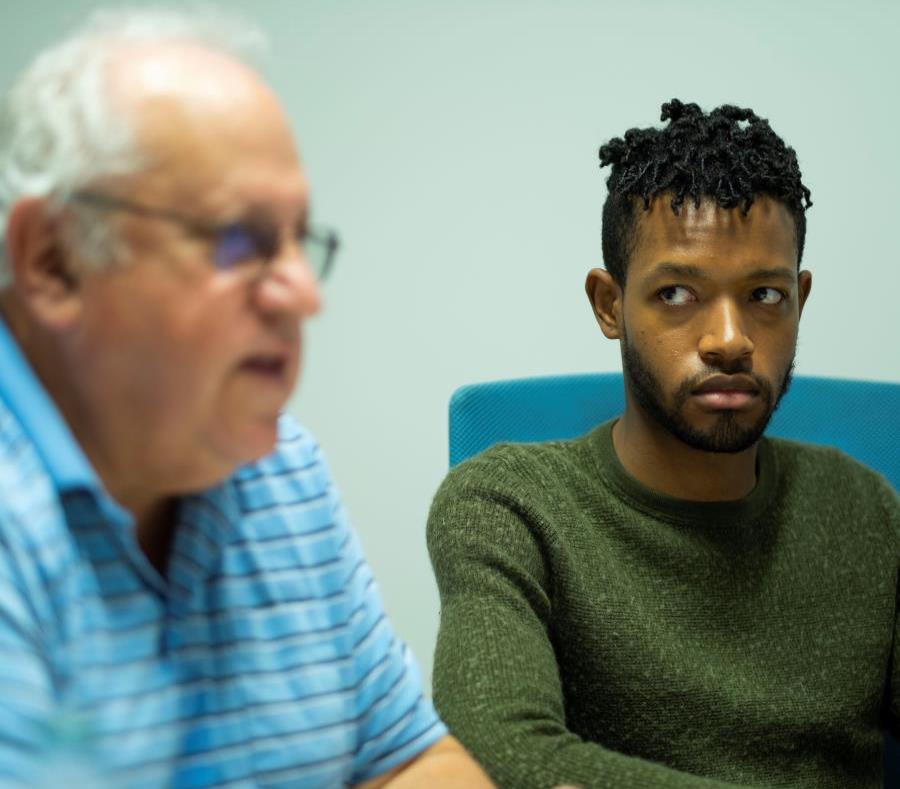 When talking about Detroit´s bankruptcy, it is often heard that this city is the center of multi-million investments after putting its public finances in order, but for community activists Jerome D. Golberg and Jonathan Roberts, that recovery benefits only a few.
A decade after the Great Recession, 33 percent of workers' households are in poverty; firefighters, policemen and pensioners lost part of their retirement and health insurance and there are families who do not have water in their homes, even to bathe their children before sending them to school.
Besides, over 150,000 properties have been foreclosed, either due to mortgages default or for not paying property taxes.
The Electrical Industry and Irrigation Workers Union (UTIER) invited Goldberg and Roberts to Puerto Rico to tell that side of Detroit's history. The objective of the visit is to warn Puerto Ricans about the future that austerity policies - driven by the government and the Oversight Board – might imply.
"Puerto Rico is Detroit on steroids," said Goldberg, who participated yesterday in a debate on the bankruptcy of Detroit, once a mecca of the automotive industry. The panel was held at the Puerto Rico Bar Association with the participation of Rolando Emmanuelli, lawyer, expert in PROMESA and economist José Caraballo Cueto.
"This is a tale of two cities," said Roberts, a Harvard graduate, and labor and human rights activist.
According to the creator of the initiative to prevent 1500 foreclosures in Detroit, the city reconfigured its finances, but did so at the expense of the poorest workers and families.
Both activists explained that those companies and developers that arrived in the city were granted all kinds of tax credits while, thousands of low-income households have three to four times higher tax rates than what would be allowed, based on their value.
Detroit filed for bankruptcy in 2013, when the city concluded that it would not be able to pay about $ 18 billion in debts, including pensions payment.
According to Roberts, now the city has no funds for key projects such as replacing pipes with lead and whose harmful health effects are well known. In contrast, he stressed that, after the bankruptcy process, water service rates have gone up, due to several special charges. He said that those funds are used to pay bondholders.
Roberts said that when the crisis began, the equivalent of the Aqueducts and Sewers Authority cut off the service to 40,000 homes. Currently, water service cuts total about 100,000 homes and even schools that do not pay for the service are cut off.
Roberts remarked that now downtown Detroit is full of banks, hotels, restaurants and luxury condominiums.
"From the perspective of the wealthy and bondholders, for those who precipitated the crisis, certainly Detroit is recovering. But, on the other side, thereis the Detroit where more than 700,000 people live -compared to over a million that lived there before- and for those, the reality of their communities is very different," explained Roberts.
Among other things, Roberts' initiative has contributed to avoid the foreclosure of 500 properties due to tax debts.
Similar moves
Goldberg said that, currently, Detroit macroeconomic numbers are even worse than before the crisis broke up.
The average household income in Detroit is between $ 28,000 and $ 30,000 a year, but discounting inflation, that indicator is lower than before the crisis.
Goldberg said that Detroit could not handle its finances when property taxes went down. This, as people could not pay subprime mortgages of which they were victims.
According to the lawyer, who was controller in Detroit´s bankruptcy process and part of the movement "Moratorium NOW!", the city did everything to stay afloat.
He told how the city began to privatize government operations, issued pension debt and bought, high-risk instruments known as "swaps" from investment banks such as the UBS. In the case of Puerto Rico, those cost over $ 1 billion in payments to Wall Street banks.
Workers and pensioners
Goldberg said that, in Detroit, public employees were encouraged to voluntarily reduce their salaries in about 10 percent, which was done in Puerto Rico under Luis Fortuño´s administration. In addition, once the pension plan collapsed, they proposed the creation of annuities, promising public employees a 7.5 percent return. In Puerto Rico, they did almost the same, but the funds for such annuities were used to pay current pensions, so there is uncertainty whether current public employees can recover their money.
In Detroit, the annuity plan enabled the city to hold that money through a "clawback" mechanism. As a result, according to Goldberg, there are public employees and pensioners who pay the city for these instruments, instead of receiving an income for retirement.
For Goldberg, the worst part is that firefighters, policemen and pensioners were left without healthcare insurance, while what could be described as a Christmas bonus and future increases in pensions were eliminated to balance out the increase in the cost of living.
💬See 0 comments