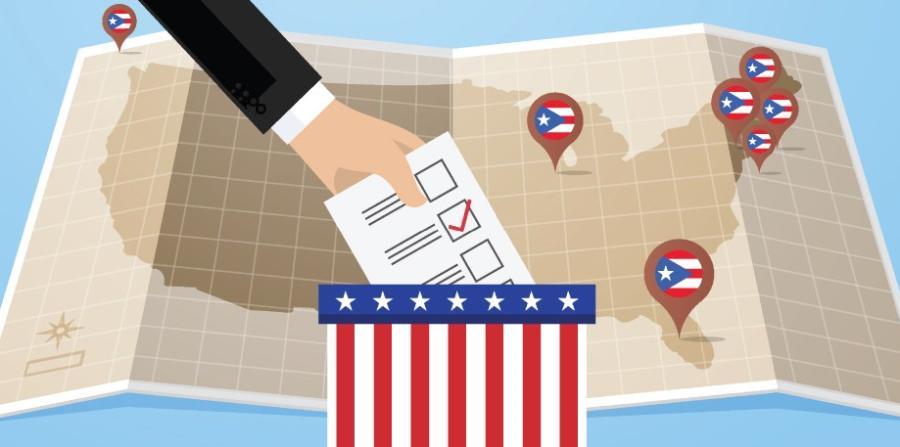 WASHINGTON – There are over 150 elected officials of Puerto Rican descent from Alaska to Florida, a number that might increase after next week's election.
More than a hundred elected officials, out of the 156 El Nuevo Día was able to identify, are located in four states: New York (35), New Jersey (34), Connecticut (24), and Illinois (20).
The presence of Puerto Rican politicians in elected posts now includes states with limited Puerto Rican populations, such as Rhode Island, Alaska, Idaho, and Missouri.
Puerto Rican Liz Vázquez has been State Representative in Alaska for four years. In her webpage, the former prosecutor states, "I am an American of Puerto Rican heritage and an example of the American dream. I started school in Puerto Rico and learned English as a second language. My parents never finished high school and I was the first in my family to graduate from college. After eating a lot of macaroni and cheese, I obtained my law degree and later, my two master's degrees."
In Rhode Island—aside from Secretary of State Noemí Gorbea, an elected official—, Luis Aponte is the president of the Providence City Council. Both Gorbea and Aponte (who was raised in Brooklyn, NY) were born in Puerto Rico.
Next Tuesday's elections could compromise a significant number of seats occupied by Puerto Rican politicians in states such as New York, Connecticut, and Florida.
For example, in New York, Democratic Representatives José Serrano and Nydia Velázquez, as well as the 13 state representatives of Puerto Rican origin, are up for reelection.
Just like Democrat Luis Gutiérrez in Illinois and Republican Raúl Labrador in Idaho, Serrano and Velázquez are clear favorites to retain their seats. It is the same with almost every state representative from New York, most of which are Democrats on their way to reelection.
Nevertheless, in these elections no place stands out as much as the state of Florida.
Congressional candidate Darren Soto is generating enthusiasm within the community. He is a Democratic state senator running for a seat in the US House of Representatives for the 9th District, which is based in Kissimmee.
"Darren Soto could be a role model" for the Puerto Rican youth in the area, according to Puerto Rican activist Jimmy Torres Vélez, president of the Puerto Rican Action Initiative group. This group promotes Puerto Rican voter participation in the Orlando area and is not affiliated with any political party.
In 1992, he recalled, Luis Gutiérrez's election as representative for Chicago's 4th District helped energize the Puerto Rican community and promote political participation in the city.
Torres Vélez claimed that the Congressman's office is "the center of much social and political activism," and the driving force for the allocation of funds to promote cultural and sports initiatives.
"The seat for Florida's 9th District was held by an American that has had a good relationship with us, but he was not one of ours," he added.
In Florida, Soto is currently one of six Puerto Rican state legislators, three Democrats and three Republicans.
Democratic State Representative Víctor Torres and Republican Peter Vivaldi, both of whom are Puerto Ricans, are vying for Soto's seat in the state senate.
In New York, after many Puerto Ricans have fallen short from the goal to elect a mayor of Puerto Rican descent, Melissa Mark Viverito was elected as City Council Speaker on January of 2014. This is the second highest-ranking position in the Big Apple.
"Melissa has become the most prominent Latino political leader in the city, on the same level as House Representatives, and she has helped solidify the influence of Latinos and progressives in the city," voiced Edwin Meléndez, Director of the Center for Puerto Rican Studies at Hunter College.
For Meléndez, the possible election of Darren Soto as Florida's first congressman of Puerto Rican descent is also very important. "(Soto) has automatically become the spokesperson for Florida's Puerto Rican community. He comes from a centrist position and is very careful with his message," he added.
At a time when Florida's Puerto Rican population may have surpassed New York's, each with over a million Puerto Ricans, Meléndez believes that if Soto were to be elected, he would have the opportunity to "unite Puerto Ricans in a legislative agenda in Florida and on a national level."
💬See 0 comments