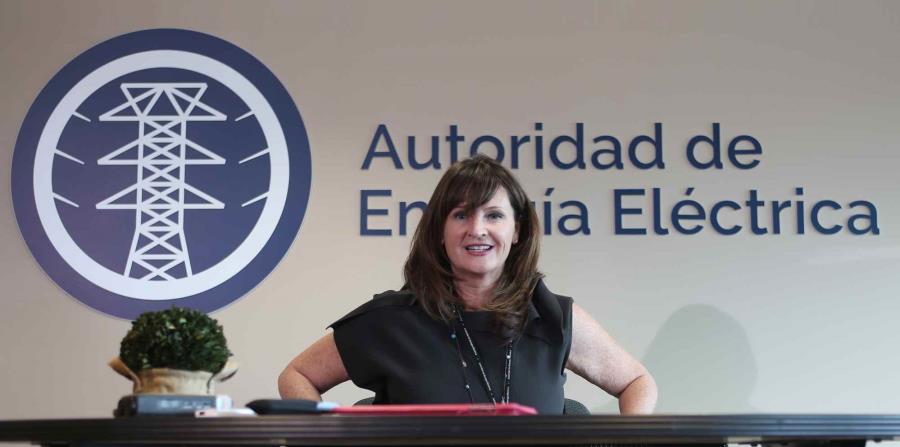 It should have been a seven-month contract, but Lisa Donahue's arrival at the Puerto Rico Electric Power Authority (PREPA) will reach its two-year mark in three weeks, and her stay remains with no date of completion.
This is a stay that, taking into account AlixPartners, Inc.'s latest contract extension, will cost the people $43.6 million until December 15th.
When that day arrives, however, the cost could be even greater, since Donahue and her team can claim up to 8% of reimbursable expenses, such as lodging, transportation and food, among others.
"PREPA's restructuring is not yet finished," said Harry Rodríguez, president of the PREPA Governing Board, in an attempt to justify Donahue's five contract extensions since September of 2014.
Last Monday's extension, which meant $6.7 million more for the restructuring officer and her business, has created general unrest in the Island. It has come only two weeks after PREPA's rate increase by 1.299 cents per kilowatt-hour (kWh), as part of a provisional rate they hope will improve their liquidity.
Similarly, the contract extension was granted less than a month after PREPA implemented selective power cuts because of a deficit in power generation, due to damaged units. They also removed their helicopter fleet from service due to malfunctions, and acknowledged that 15% of their vehicular fleet is inoperable.
In fact, Luis Santini Gaudier and Carlos Gallisá, the two public interest representatives in PREPA's Governing Board, voted against the extension. It was approved with six votes in favor.
However, Rodríguez insisted that a contract renewal was "necessary" so that AlixPartners International could continue to assist in "PREPA's transformation" through "specialized consultancy."
"In July of 2014, PREPA had no liquidity and was in default with the banks. We would have had to increase the kWh cost by 11 cents. But with AlixPartners, we've been able to carry out a financial restructuring," he said.
"Savings"
Aside from Rodríguez, three other members from the Executive Committee of the PREPA Governing Board met yesterday with several media outlets to discuss Donahue's contract extension.
One of them was Carlos Bonilla, the most recent member to join the Governing Board, who argued that the work of the restructuring officer and her team over the past 23 months has generated $414 million in savings.
He also explained that last Monday's extension would generate $32 million in additional savings, for a total of $446 million.
"We see this as an investment; an investment in AlixPartners to obtain crucial operational results," said Bonilla.
"It's an investment that has already paid for itself 10 times over," added Rodríguez, who mentioned as an example that $60 million have been saved due to the efficient use of "fuel management logistics." He also stated that a "better price" was negotiated for energy acquired from EcoEléctrica, and that the public corporation's workforce now has 1,800 fewer positions.
Rodríguez was asked when Donahue is leaving PREPA, but he could not give a specific date.
He also couldn't specify if the contract extension from four days ago would be the last one, although he did say that if there were to be another extension, it would be the responsibility of the new PREPA Governing Board. It is expected that, any moment now, Governor Alejandro García Padilla will appoint the new members of the Governing Board, who, in accordance with Act 4-2016, must be confirmed by the Senate.
"Delegating"
Rodríguez and Luis Benítez, vice president of the PREPA Governing Board, pointed out that Donahue couldn't leave in the first place, because the Restructuring Support Agreement (RSA) specifies that negotiations with the public corporation's bondholders and other creditors must be led by a restructuring officer.
"The (PREPA Governing) Board has made the decision to continue delegating the (restructuring officer) duties to AlixPartners. They will leave once the RSA is complete," Rodríguez said.
Benítez, for his part, expressed that Donahue and her team's exit "will depend on the processes over the next few months." He explained that the RSA arranges for the creation of PREPA's Integrated Resource Plan and the revision of the rate structure, processes that are at this time being reviewed by the Puerto Rico Energy Commission (PREC). AlixPartners International is also in charge of creating a ten-year business plan for PREPA.
Another matter that, according to Rodríguez and Benítez, justifies the stay of AlixPartners International is the bond issue under the "securitization" mechanism supposedly coming together in December. This issue involves the implementation—at some point during the first quarter of 2017—of a "transition fee" of 3.10 cents per kWh, which when added to the provisional rate already in place, would increase energy costs by 4.399 cents per kWh.
On a related subject, the Executive Committee of the PREPA Governing Board defended the creation of a second deputy executive director position in the public corporation, and the appointment of José Luis Monroig—current undersecretary of the Department of Transportation and Public Works—to the position.
Rodríguez stated that from now on—and for the purposes of setting up an "orderly exit" for AlixPartners International—Monroig "will take over" the company's different work areas to eventually take control along with additional internal staff.
Monroig will earn a salary of $98,000 a year.
💬See 0 comments