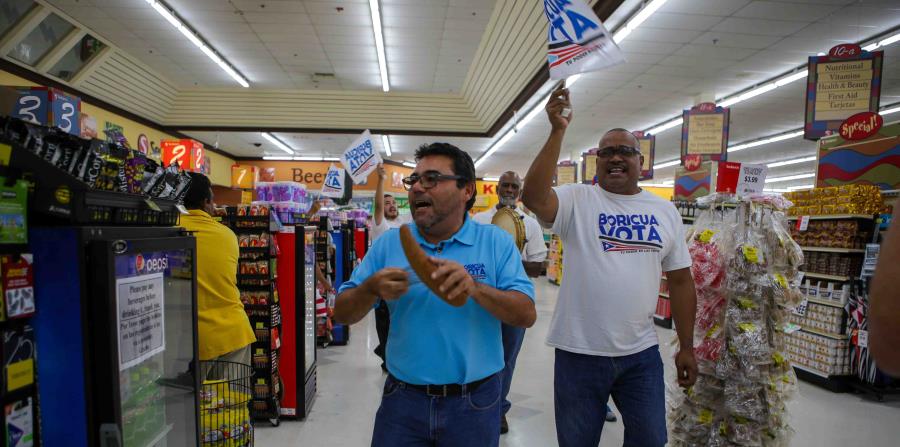 Orlando, Florida - Two days before the Florida primaries, when Democrats and Republicans will choose the candidates running for the November elections, signs of an increase in the participation of Hispanic voters, particularly Puerto Ricans, are popping up.
This is what Puerto Rican voices in Florida as well as those of the political scenario believe noting that an unprecedented increase in participation already shows in the streets.
Although primaries are this Tuesday, August 28, the early voting phase has already begun. This process allows people who live far from voting areas or work in electoral processes, have medical procedures or religious reasons, among other causes, to vote in advance.
Data from the Orange County Supervisor of Elections Office shows that during the first five days of the early voting, voters turnout has doubled compared to other years in that county: 16,233 people had already voted on the fifth day of the election this year, compared to 7,519 that had voted on the fifth day of the 2016 elections and with the 6,914 that did the same in 2014.
Population increase is another factor to be considered. In 2014, there were 1,253,001 inhabitants in Orange County while data from the Census shows that in 2018, the population already reaches 1,348,975 residents.
There are more than fifty candidates for positions such as Governor, Congress representatives, state legislators and mayors, among others.
The power of Puerto Ricans
Puerto Ricans in Florida, who are estimated to be 1.2 million, could become a political power if they register and vote, said the main political parties and community leaders.
However, two months ago, religious leaders denounced a disturbing electoral apathy by noting that Latinos were not filling out their voters registrations.
There have been different reasons for this: that Puerto Ricans arriving in Florida -displaced from Puerto Rico after hurricane María- have been too busy surviving to pay attention to politics; that they do not understand the United States electoral process or voting every two years; and that they do not have a clear understanding of the ideological differences between Republicans and Democrats.
Now, on the eve of a primary process that essentially appeals to core voters, there is a palpable growth in voter participation in the streets. However, from the statistical point of view, it is very difficult to see how Puerto Ricans are voting. Official statistics show whether the voter is Hispanic or not, but do not specify the country of origin.
The Office of the Florida Supervisor of Elections calculated the registered voters for these primaries throughout the state. Data reveals that, until July 30, 39 percent of Hispanics registered as Democrats, 25 percent as Republicans and 39 percent as non-affiliated. The rest of the Hispanics registered with other minority parties.
"The registration process, although important, has created some problems for the Supervisor of Elections since the organizations conducting this process seem not to be completing the registration forms correctly neither specifying if the new voter is Hispanic. That affects the data and makes them unreliable," said Gary Berríos, Republican Party State Director for Puerto Rican Affairs.
"But yes, there is enthusiasm in the streets, there are many organizations registering people to vote and you can see it in churches, which is my strong point," said the Republican leader, who is also a minister.
"Unaffiliated voters and evangelicals are the ones that are going to cause an electoral change, especially religious ones, who are the ones to tip the balance. Florida is part of what is called 'the Bible Belt' -southern states where faith plays a key role in all spheres-. They are a silent force," said Berrios.
Although in terms of official data it is not easy to identify the origin of voters, Jimmy Torres Velez, community leader and spokesperson of the "Boricua Vota" organization, said that the increase in electoral mobilization among Hispanics and Puerto Ricans could be attributed to the campaigns of organizations like the one he leads, which has carried out activities to attract people every weekend, like caravans, door knocking or musical events.
"That movement of people means an excellent rhythm. It would be pessimistic to think that that there are no Hispanics. Definitely, there are Latinos in that wave of participation," said Torres Vélez.
He told El Nuevo Día that he has incorporated the use of a "tumbacoco" (a vehicle with loudspeakers) as part of the strategies to work on the importance of registering Hispanic and Puerto Rican voters. Every day, from 7:00 a.m. to 7:00 p.m. this "tumbacoco" to 7:00 p.m. goes through Latino areas inviting them to participate.
"You can see our people in the lines of the early voting process. We know the faces," said Torres Vélez.
Darren Soto, Puerto Rican descent Democratic congressman also spoke about a rise in voter turnout. When talking specifically about District 9 that he represents, he noted that in 2016, -when he first run for Congress- the voter turnout was only 15 percent and now it is close to 32 percent, he stressed.
Data from the Office of the Florida Supervisor of Elections show that, for these primaries, in Orange County (including Orlando and one of the places in Florida where most Hispanics and Puerto Ricans live), there were 191,873 Hispanic voters registered. For the 2014 primaries, in that same county, there were 153,387. In Osceola County (where Kissimmee is), an important Puerto Rican enclave, there were 100,973 Hispanics registered for Tuesday's primaries. For the 2014 primary, the number of Hispanics registered was 68,153. In the 2012 primaries, Hispanics were not included as a group.
From Washington D.C., Jose Aristimuño, Democratic strategist and former deputy press director of the national Democratic Party during the 2016 elections, validated the increase in participation among Hispanic voters, but pointed out that there is still work to do.
"I see more movement than in previous processes. I see more emotion and more awareness from Puerto Ricans and Latinos. It really shows at 100 percent and, therefore, next week we will go to Orlando to launch Respeta mi Gente (Respect my People), a coalition of Latino organizations that seeks to register Puerto Ricans, but focused on the November elections," said Aristimuño. "We have to keep working for that vote to expand," he added.
El Nuevo Día sought an interview with Democratic party officials for three days aiming at discussing the issue of Latinos participation facing these primaries. They sent the following written statement attributed to Executive Director Juan Penalosa: "In anticipation of November general election, the Florida Democratic Party has significantly invested in an effort to register newly arrived Puerto Ricans. We are working with progressive groups throughout Florida to ensure that voters understand the message of our candidates and the importance of voting this year. We know that the Democratic Party and its candidates share the same values as Puerto Rican working families. We will continue fighting to win their votes."
Hispanic Federation is one of the organizations that led efforts to motivate Hispanics in Florida to register and vote. Its president, José Calderón, mentioned that the educational process started is already beginning to bear fruit, and that could explain the increase in the number of voters.
"Latinos, and particularly Puerto Ricans, are becoming aware of the power they have. There is an enthusiasm we have not seen before," he repeated.
Spanish-language ballots
This increase in Hispanic participation happens just when civil organizations such as Latino Justice, Faith in Florida, Hispanic Federation, Mi Familia Vota Education Fund, Unidos US and Vamos4PR filed a lawsuit, along with Puerto Rican Marta Rivera, asking the state of Florida to provide Spanish-language ballots.
Section 203 of the Voting Rights Act of 1965 stipulates that the state must provide such materials as well as bilingual assistance in cities where more than 5 percent of voting age citizens do not speak English well enough to participate in the process. Currently, that rule applies in 13 counties.
According to Kira Romero, manager attorney at Latino Justice, the hearing on this case will be on September 5, in the northern district court in Tallahassee.
"Power"
On the road to encourage Hispanic voters, the "Poder" (Power, in Spanish) platform -created by Puerto Rican Governor Ricardo Rosselló Nevares in Central Florida- will launch a social media campaign on September 1 to educate Puerto Ricans on how to register.
Luis Figueroa, President of Poder, explained that this effort will last until October 9, which is the last day to register in Florida. Then, a second phase begins to motivate those registered to vote in the November 6 elections.
"Through this effort, we hope to double the number of people who registered through our website that was 3,000. Whether they are 20, 50 or 100 votes, they can make a difference in Florida, because whoever wins elections here does it by 1 percent or less," said Figueroa.
"What I see in Florida now is similar to the campaigns in Puerto Rico. I see candidates in the streets, knocking on doors, holding meetings, using music. I did not see this in past elections," he concluded.
💬See 0 comments