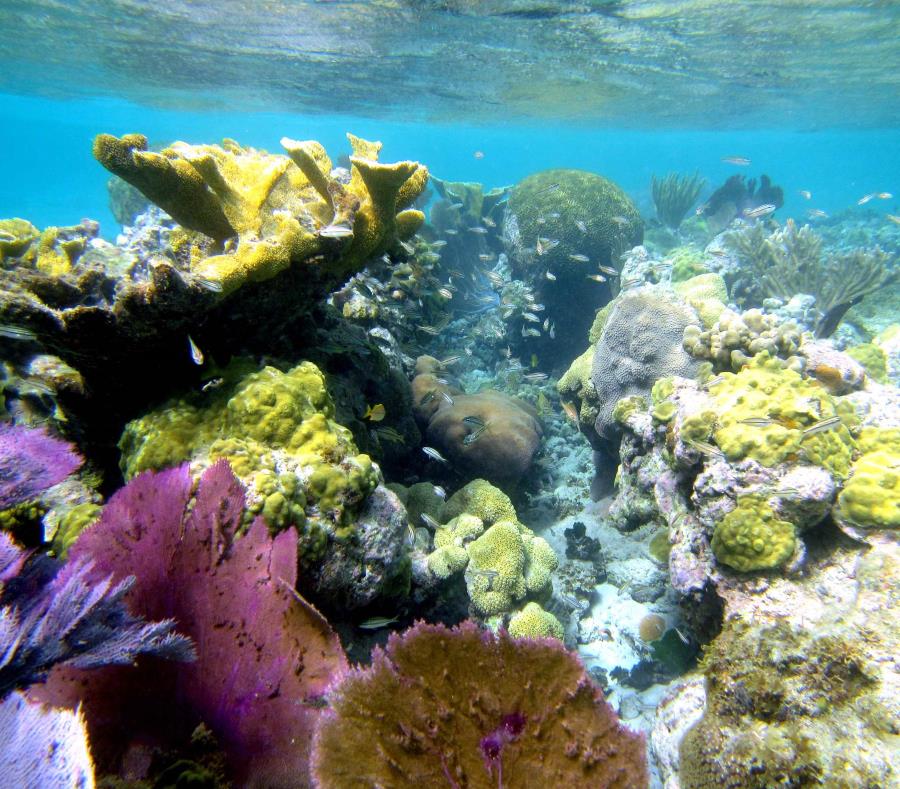 This administration proposes a public policy on climate change –which might be approved next legislative session- that conceptualizes Puerto Rico as a platform or innovation hub for resilience.
For the governor, this is an effort to address "the most relevant issue of our generation and at a global level," in areas such as biodiversity and ecology, but also in infrastructure, education and economy.
Rosselló added that the goal is for "Puerto Rico to do what it has to do and be at the forefront" in terms of prevention, mitigation and adaptation to climate change, so that scientists and innovators from other countries come, learn about the experience on the island and replicate it.
"Due to our size, the damage we can do to the environment is relatively small compared to what other countries, such as China or the United States, are producing. But the effect of climate change is disproportionately negative for Puerto Rico and the Caribbean islands, so we have to take action," he said in an exclusive interview with El Nuevo Día.
To achieve this, Rosselló created "Commitment to Puerto Rico" (Compromiso con Puerto Rico) project that sets a series of actions whose implementation would result –theoretically- in a Puerto Rico with capacity to resist hurricanes such as María and face other impacts of climate change, such as droughts, sea level rise and coastal erosion.
"These are specific initiatives we'll be working on to achieve resilience, mitigation and an adequate response to climate change," he stated.
"Enormous Opportunity"
Among the actions included in "Commitment to Puerto Rico", the first thing Rosselló mentioned was 100 percent renewable energy generation by 2050.
By 2023, that is in 5 years, that percentage should be about 40 percent.
Rosselló decided to bet on solar, wind, geothermal and hydroelectric energy, while ruling out nuclear energy.
"The cost of (renewable) technologies is going down and they represent an enormous opportunity. There are some projects that are 'shovel ready' (ready to start construction), and with the reconstruction (of the power grid after hurricane María) there is an opportunity to invest in them," he said, while noting that natural gas will be "the (fossil) fuel during the transition".
Another "commitment" -as the governor describes the actions included in the project- is to use, within the next 10 years, the capital improvements budget for "resilient infrastructure". That line represents between $400 and $600 millions from the General Fund annually.
"It has to be infrastructure able to resist hurricanes and other extreme weather events," he said.
"Part of this commitment implies that the whole (post-María) reconstruction also has to be innovative and resilient, and that includes everything from building houses and roads to areas like health care," he added.
Rosselló recalled that reconstruction funds from the Federal Emergency Management Agency (FEMA) and the Federal Highway Administration (FHWA) among other agencies, are subject to the island developing a better infrastructure.
As a parallel action, "Commitment to Puerto Rico" provides for the revision of building codes and public policy on housing.
"We are seeing droughts, like in 2014 and 2015, but also floods. In fact, we will have a new map of flood prone areas, and we want a more robust and strict building code. In Puerto Rico, we face the challenge that construction is not designed for the ravages of nature, such as hurricanes, severe changes in temperature and earthquakes," he added.
Rosselló advocated for a public policy to relocate structures in vulnerable areas, both for housing and for critical infrastructure such as electricity, aqueducts and telephony, among other services. In his opinion, "people are more open" to the possibility of relocating after María.
"Specific" policy
As for education, "Commitment to Puerto Rico" provides for the creation of a curricula that addresses mitigation and adaptation to climate change issues, in addition to resilience and response to emergency.
Rosselló said that "we are in talks" with the Secretary of Education, Julia Keleher, to start a pilot project "as soon as possible" and implement the curricula in all public schools next school year.
We don´t have such a curricula in our system, what represents a problem since we are seeing the effects of climate change and people do not have that on their agenda," he said when mentioning coastal erosion and biodiversity loss among the effects of climate change.
Regarding this line, another action will be to design a specific public policy on coastal erosion.
Places like Loíza and Rincón, for example, lose between 3 and 5 meter-wide beach every year due to sustained sea level rise which in turn comes from high ocean temperature and ice melting at the poles. Erosion gets even worse with human activity.
"We will continue to see these problems until we have a public policy on erosion. Many of our most attractive areas are being seriously affected," he noted and specified that 61 percent of the population live in coastal areas. 44 of the 78 municipalities are on the coast.
The recently announced reforestation program "Sembrando Futuro" (Sowing the Future), which includes the planting of 500,000 native and endemic trees in the next five years, is also part of "Commitment to Puerto Rico." The program focuses on the reforestation of the 134 hydrographic basins of the island.
The last "commitment" is the development, in the short and long-term, of research and intervention strategies for the improvement of beaches, dunes and coral reefs. Coral reefs are considered highly sensitive ecosystems that face high levels of mortality partly due to high ocean temperature.
Multi-sectoral group
A Multi-sectoral Group to Mitigate Climate Change, created by the governor, through executive order on November 9, will be in charge of the development of these initiatives.
Secretary of Natural and Environmental Resources would head this Group. The secretaries of Health, Education, Public Safety and Economic Development, as well as the executive directors of the Aqueduct and Sewers Authority (PRASA) and the Electric Power Authority (PREPA) would also be part of the Group. The president of the University of Puerto Rico and Senate and House presidents of the committees on Environmental Health and Natural Resources would join the Group too.
The 14-member list would be completed with three environmental organizations representatives and another two from the private sector. Rosselló said he expects to make these appointments before the end of November.
This way -and as provided in Executive Order 2018-045-, the Multi-sectoral Group would submit its first " State of Work Report" in 60 days, that is, at the end of January or the beginning of February.
According to Rosselló, the report would be delivered on time for the public policy on climate change to be approved during the first quarter of 2019.
Questioned if Senator Larry Seilhamer's climate change bill will have any space in "Commitment to Puerto Rico", Rosselló said that it will be "the point of reference" for the new policy.
PNP Senator Seilhamer worked on his climate change bill for two years and it was discussed in eight hearings but remained pending in the last session. While the chances for the bill to pass were really high, Rosselló sent it back for improvements and to widen its scope.
"It is a very positive measure and part of what we want to do is to make it the point of reference, to define the objectives and actions in the short, medium and long- term," the governor insisted.
He said that "Commitment to Puerto Rico" would have a "positive impact" on the economy, since it would boost areas such as ecotourism and export of knowledge. "We are thinking about the next generations," he concluded.
💬See 0 comments