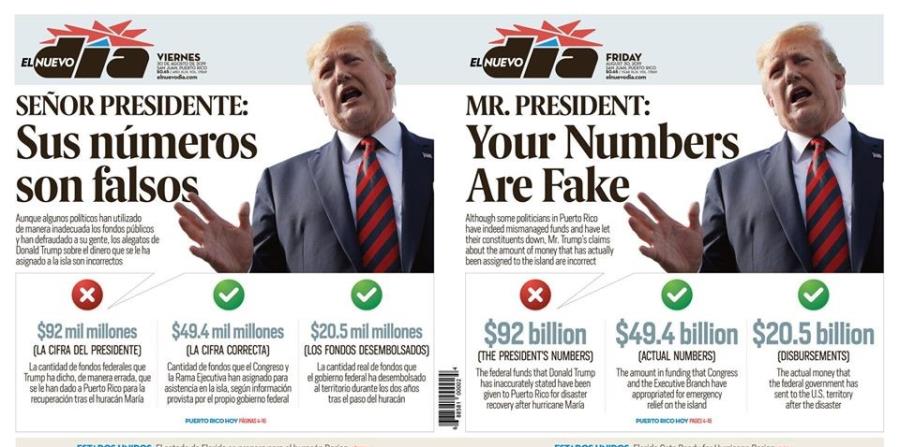 Washington – USA Today and CNN highlighted yesterday El Nuevo Día´s front page addressing U.S. President Donald Trump for giving fake numbers on disaster relief funds the federal government granted to Puerto Rico after Hurricane María.
" Puerto Rico's leading newspaper slammed President Donald Trump in a front-page headline that went after his repeated false claim that the U.S. has given Puerto Rico $92 billion for hurricane recovery," said USA Today about El Nuevo Día front page.
USA Today is the newspaper with the second-largest circulation in the US.
Meanwhile, in DirectoUSA, CNN in Spanish anchor Juan Carlos López showed El Nuevo Día´s front page and said that it clarifies President Trump's false versions, who insists that Congress allocated $ 92 billion to the island after the destruction caused by Hurricane María."
"In English and Spanish (El Nuevo Día) tells him: your numbers are fake," López said.
DirectoUSA is CNN's weekday evening news program from Washington D.C.
Just as Hurricane Dorian was approaching Puerto Rico, Trump used once again claimed the wrong figure about the aid allocated to the island.
In a series of tweets, the U.S. president also said this week that Puerto Ricans were not grateful to the federal government during the Hurricane María emergency, and declared Puerto Rico "one of the most corrupt places on Earth."
Official federal government data indicate that, as of June 30, the funds allocated to the island totaled $ 42,691 billion.
However, when including the $ 4,8 billion in Medicaid funds allocated as an emergency measure in February 2018 and the $ 1,87 billion granted in nutrition assistance, these funds total $ 49,361 billion, still far from the false figure Trump claimed.
The funds disbursed total about $ 20.4 billion, which includes the allocations to repair the power grid, FEMA reimbursementsto citizens, to the government and municipalities for emergency measures. But of those, only $ 1,507 billion through CDBG-DR program was granted for reconstruction.
By tweeting a copy of yesterday's cover of El Nuevo Día, the Latino Justice tweeted El Nuevo Día´s front page and added: "President Trump continues to downplay how little was done for #PuertoRico recovery."
"El Nuevo Día cover shows that only $20.5 billion was spent on recovery, showing how precarious recovery is. More must be done to recover and prepare for potential disasters," said the organization that for decades, formerly under the name of the Puerto Rican Legal Defense and Education Fund, has been advocating for the rights of Puerto Ricans and other Latino groups in the U.S.
Democratic Representative Don Beyer (Virginia) told CNN Thursday that he believes Trump sees Florida as "a swing state in 2020. And part of it is Florida is not an island full of people of color."
Hilary Shelton, NAACP Washington office director and vice president of Public of the leading African American civil rights group went in that direction too.
Shelton said it's very unusual for Trump to show such resistance to a "Hispanic" U.S. territory with a significant African descent population.
"At least, it raises the question (of whether there is racism). It smells very bad, for example, that he treats Puerto Rico and Florida differently," she added.
"A powerful front page," said former New Progressive Party (NPP) senator Orlando Parga, who left the U.S. Republican Party in Puerto Rico due to Trump's lies about the island.
Eduardo Bhatia, spokesman for the Senate Popular Democratic Party (PPD) and a candidate for governor, retweeted El Nuevo Día´s front page and told Trump that "on behalf of the people of Puerto Rico: stop the racist rant and the lying BS. Lead with the truth, follow with the truth or get the hell out of the way."
💬See 0 comments