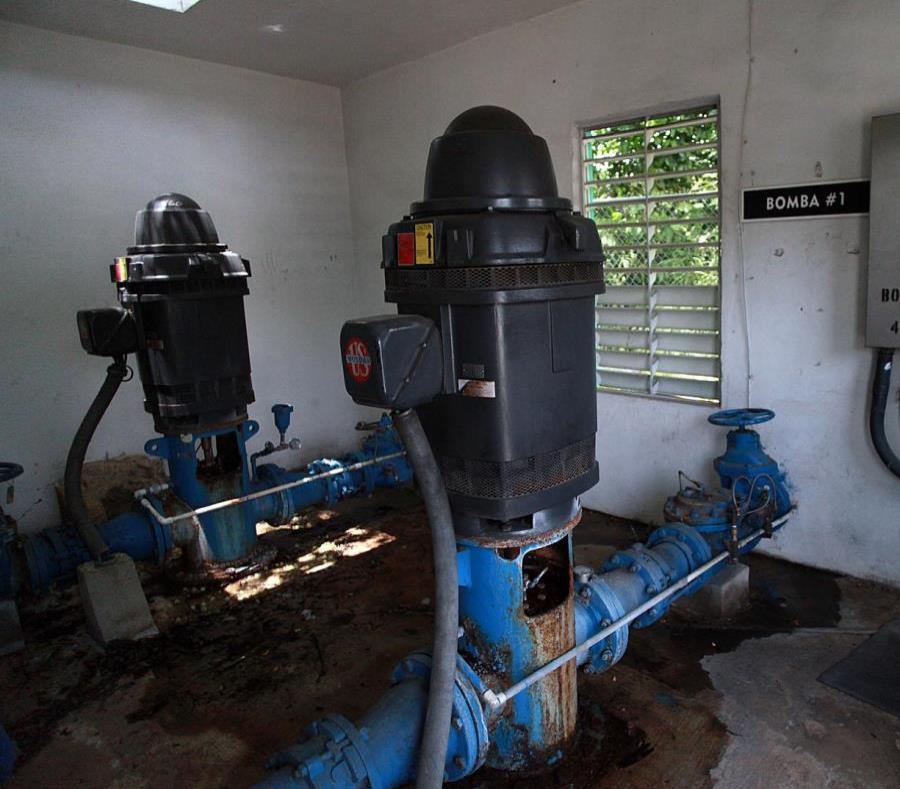 Nine months after Hurricane Maria, at least 248 critical facilities throughout the island are still operating with electric generators, which means a daily consumption of 30,000 gallons of fuel and a cost of $2.1 million per day.
That was the information that the Federal Emergency Management Agency (FEMA) had until last Friday.
Faced with the slow restoration of electricity service due to the destruction caused by the hurricane, the agency created a "temporary energy mission" to provide generators to critical facilities identified by the State. FEMA spokeswoman in Puerto Rico, Delyris Aquino, said that this mission will be extended until December.
"While some of the generators are connected to create microgrids, which provide energy to a complete geographic area for residential and commercial use, most are in specific areas or facilities," said Aquino.
Water pump stations of the Aqueducts and Sewers Authority (PRASA) and telecommunications towers are at the top of this list.
However, FEMA also keeps generators in hospitals, clinics and care homes, as well as 9-1-1 dispatch centers, police and fire stations.
Aquino pointed out that the $2.1 million per day that the temporary mission costs, include both the purchase of the 30,000 gallons of fuel and generators maintenance.
Aqueducts
In an interview with El Nuevo Día, Elí Díaz Atienza, PRASA president, said that 90 percent of the facilities of the public corporation "are connected" to the Electric Power Authority (PREPA).
"That means that, 96 percent of the energy we need is provided by PREPA and 4 percent is being supplied by generators. We have 165 generators and almost all are at pump stations," said Diaz Atienza.
"These pump stations are located in the highest areas of the island or in places where electricity problems are still serious. There are other places where power may have been restored, but the voltage is changing and those variations may damage the pumps, which would be more difficult and costly for us," he added.
Only 54 of the 165 generators belong to PRASA. The remaining 111 come from FEMA, and that agency covers fuel and maintenance costs.
In terms of geographical distribution, Díaz Atienza said that eastern and northern areas are the ones with the most generators, with 74 and 53, respectively.
"The eastern region covers all the areas where the hurricane entered (Puerto Rico), which still have electricity problems, and the northern region includes mountain areas, where service restoration has also been delayed," he said.
He added that in the southern, metro and western regions there are 16, 13 and 9 facilities operating with generators, respectively.
Diaz Atienza explained that PRASA operates 54 generators at a cost of $ 170,000 per month. That cost covers fuel, maintenance and security in the facilities.
"Any expense through this process will be claimed to FEMA as a refund, because it is still directly related to the emergency," he said.
Telecommunications
Meanwhile, Sandra Torres, president of the Telecommunications Regulatory Board, explained that, until last Friday, 121 towers were still operating with electric generators.
There are 2,659 telecommunications towers on the island. None is property of the Regulatory Board, but by private entities that rent them to telecommunications companies to place their antennas.
"These 121 towers that are not yet energized are distributed throughout the island. But of course, we have several municipalities in the central region the island that are still a challenge," said Torres.
"As long as we are under these conditions, having towers with generators, we will not have a robust call or text message system. We will have a vulnerable system; it is not how we would like everyone to have the service," she said, noting that there are towers with more than one generator.
Torres explained that, unlike PRASA and other government agencies, telecommunications companies cannot claim FEMA for their expenses regarding the operation of generators. She explained that companies must complete this procedure through their insurers.
By press time, T-Mobile was the only company that provided information about its facilities that are not connected to the PREPA yet.
"Approximately 6 percent of all sites remain energized by generators, many of them 24 hours a day, seven days a week," the company said in a written communication.
T-Mobile added that the monthly cost of that operation is over $ 350,000.
Torres recalled that, immediately after María, telecommunications companies spent $ 2,500, every two days, on fuel for their generators. She estimated that a similar cost right now.
Additional services
On the other hand, PREPA informed that it has no facilities connected or operating with electric generators.
The islands of Vieques and Culebra, as well as the Charco Hondo of Arecibo community, have electric service due to generators, fuel and maintenance provided by FEMA.
"(Generators) will be in those areas until the electricity service is restored, according to the restoration and energization plan," said the public corporation in writing. No PREPA official was available for interview.
Meanwhile, former president of the Board of Directors of the Hospitals Association, Marta Rivera, said that, "as far as we know", all hospitals have electricity service. That contrasts with what FEMA said when reporting that there are still hospitals that "have temporary support" (generators).
Alba Rivera, president of the Association of Clinical Laboratories, said that "most" of the laboratories are connected to PREPA.
"But there are short service interruptions," she highlighted, and said that laboratories mitigate these blackouts with generators, in order to provide the best services they can in these conditions.
By press time, no official from the Department of Health was available for an interview. Maricela Diaz, a spokeswoman for the agency, promised to offer information today about healthcare facilities that do not have electricity service yet.
Season preparations
For this hurricane season - which runs fron June 1 through November 30 - FEMA has a stock of 600 generators, which are reserved to ensure the continuity of service in those facilities included in their temporary mission.
Aquino noted that those generators are stored in "strategic locations" to protect them from damage.
In the case of PRASA, Díaz Atienza said that they are in the process of replacing 224 of their own generators that were damaged during the past nine months, and of repairing another 130 that suffered minor breakdowns.
"I am drafting a plan for FEMA including critical facilities for which we need to ensure water supply, such as schools, hospitals, urban centers and care homes. It takes 400 additional generators to the 224 that we are repairing to fully supply those facilities," he said.
Purchasing these 400 additional generators represents a multimillion-dollar investment, and Diaz Atienza admitted that PRASA does not have that money nor is it contemplated in the fiscal plan of the public corporation. For that reason, he pinned his hopes on FEMA granting the funds.
On the other hand, Torres said that telecommunications companies already have, together, 1,800 generators to use in case of emergency, and 6,000 new posts have been installed.
"The most important thing is that 1,077 miles of optical fiber are already underground, and that is very important because that way, we do not depend on PREPA's posts for cables. It is something that is being done throughout the island," she said.
She added that they expect the Federal Communications Commission to grant $ 411 million to Puerto Rico, which would be used to strengthen mobile telephone infrastructure and advance the deployment of broadband.
Reporter Sharon Minelli Pérez collaborated with this story.
💬See 0 comments