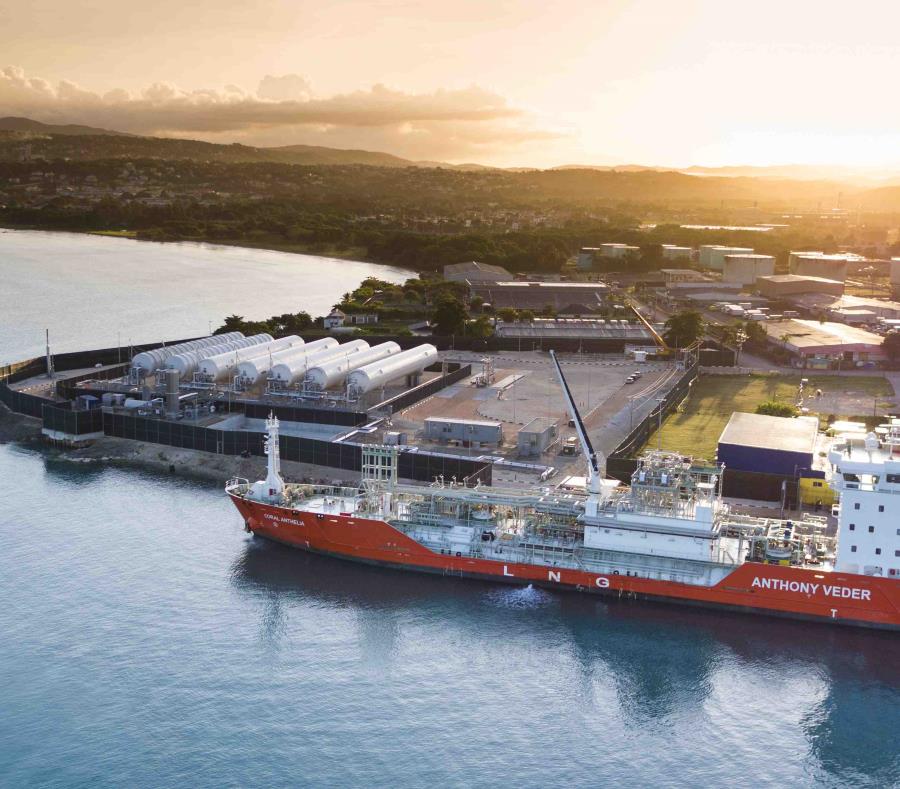 Although New Fortress Energy is bidding for the fuel contract and units conversion in the Electric Power Authority (PREPA) San Juan Power Plant, the company affirmed that its main interest, when establishing in Puerto Rico, is to supply natural gas to industries from an installation that is already in development.
The company, established on the island under the name of NFEnergía, is also in conversations with about thirty potential clients, confirmed its spokesman, Jake Suski.
"We came to Puerto Rico after Hurricane María to see if we could help in the reconstruction; to see if we could provide cleaner and more reliable energy. We found it very clear that the recovery would depend on the industries success, so we decided to make a micro installation for fuel management," he told El Nuevo Día.
"Our decision to build in Puerto Rico is independent of any outcome that the request for proposals (RFP) process may have for the San Juan plant," he added.
The other company bidding for the fuel contract and units conversion is Puma Energy Caribe, whose directors were not available for interviews by press time.
What does it involve?
Suski explained that NFEnergía will build a micro installation for fuel management in the port of San Juan.
It is a space where barges will arrive with liquefied natural gas, whose origin was not specified.
Then, from that facility, liquefied natural gas will be transferred to trucks, that, in turn, will distribute it to industrial clients at any point of the island.
"Puerto Rican economy depends, to a large extent, on these large businesses and industries, such as pharmaceutical companies, which have highly energetic processes. The current inability to provide them with less expensive fuel makes the market less competitive," said Suski.
He said that, since last December, NFEnergía is working in the design, the engineering and the permits required for the construction of the micro-facility for fuel management. They have also hired some employees.
Suski estimated that the company will invest "more than $ 100 million" in the project, which would generate 50 full-time jobs in its operational phase. It is expected for the construction to end early in 2019.
$34,458 monthly
NFEnergía registered in the Department of State last December 11. One day later, it submitted an amendment to the incorporation certificate to correct a name error.
On December 19, the Board of Directors of the Ports Authority authorized the sublease of part of docks A, B and C in the port of San Juan to NFEnergía. The lease of these areas were held by Pan American Grain and Luis A. Ayala Colón Sucrs.
But, on May 3, the Ports Authority Governing Body changed its decision. It canceled Pan American Grain and Luis A. Ayala Colón Sucrs contracts, and authorized direct contracting of the docks with NFEnergía.
The contract, signed by the Company directors and the Ports Authority Executive Director, Anthony Maceira Zayas, is for 20 years. NFEnergía already pays a rent of $ 34,458 per month. Once its facility is operative, it will also pay about $ 50,000 per month for docking charges.
"NFEnergía negotiated with the companies that had the contracts there, and it is through an agreement between the parties that "Puertos"(Ports Authority) proposes the amendment and allows the direct lease," stated Maceira Zayas in a recent interview.
"Since May 3, they (NFEnergía) have the lease right and also have a certain presence in the area. They are working on structures demolition and asbestos removal; structures that are not compatible (with the use they will give to the docks)," he added.
On March 6, PREPA and NFEnergía signed a confidentiality agreement, in which they committed not to disclose details of the conversations and documents they have exchanged about the San Juan plant project.
Suski did not comment on the existence of the agreement. Nor did he comment on the RFP process, he limited himself to say that "it has been and will continue to be fair and transparent, which would give a positive result for customers and the environment."
"We are building a facility that could serve several purposes," concluded Suski, after noting that NFEnergía is also working on microgrid projects that incorporate solar generation and natural gas along with backup batteries.
💬See 0 comments