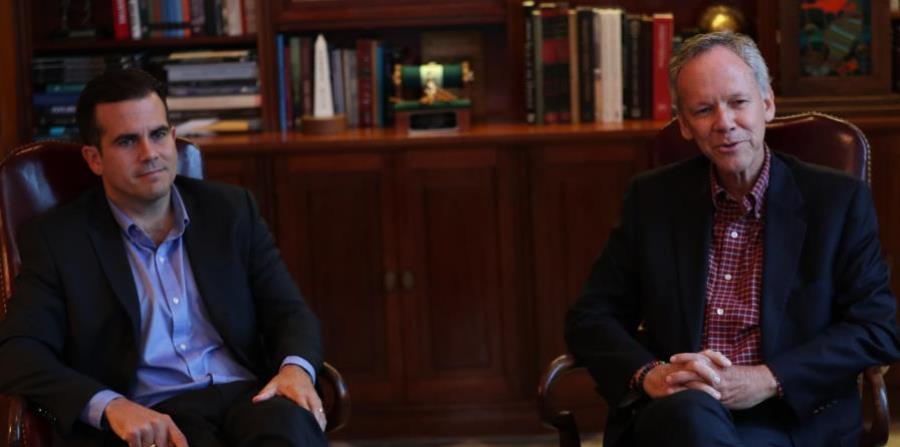 Governor Ricardo Rosselló Nevares and PREPA executive director José Ortiz informed that after a three-week negotiation process, the Electric Power Authority reduced by $ 26 million - or 35 percent - its expenses in external consultancy contracts.
In an exclusive interview with El Nuevo Día, Rosselló Nevares and Ortiz said that the savings achieved will be "invested" in the transformation of PREPA.
The biggest cut was for Filsinger Energy Partners, hired in December 2017 to offer financial advice during PREPA restructuring process. The contract was reduced from $ 24 million to $ 11.1 million, with savings for $ 12.9 million.
Earlier this month, the Oversight Board sent a letter to Ortiz outlining that the Filsinger Energy Partners contract contradicts PREPA´s certified fiscal, and that its provisions violate the faculties of the official.
Ortiz said that the firm - chaired by Todd W. Filsinger - "will now take on a slightly more strategic role".
"They had a role in pushing projects, but that is going to be in the hands of the Authority now, as it should have been from the beginning. Filsinger is very valuable for the Authority, but as a strategist ... setting guidelines and terms of the steps to be taken," said Ortiz, who took office on July 23.
The second largest cut was in legal advice, specifically for the law firms O'Melveny & Myers and Greenberg Traurig. Between both firms, spending was reduced from $ 18 million to $ 11.3 million, saving $ 6.7 million. These companies, in essence, are in charge of the legal representation of PREPA in the restructuring process and other matters, such as the investigations that the Securities and Exchange Commission (SEC) is conducting against the public corporation.
Meanwhile, Ankura Consulting Group - hired in June 2017 to offer financial advice in relation to debt restructuring under PROMESA Title III - was reduced by $ 3.8 million. Its contract fell from $ 11.4 million to $ 7.6 million.
Rosselló Nevares and Ortiz mentioned that they also achieved savings for $ 2.6 million by renegotiating "minor contracts" of investment bank advisors, Title III experts in rates, infrastructure and regulations.
Overlap of Functions"
"We focused on where there was an overlap of functions to leave a single person in charge, and we began to distribute the workload. There was an overlap of many law firms and financial advisers who, in many cases, were doing similar things. We eliminated that," said Ortiz.
"There were also functions that, at this stage, can be done by PREPA employees with the salaries they earn today. We have started a transition to our team," he added.
The governor, meanwhile, maintained that the reduction in external consultancy contracts was one of the actions he entrusted to Ortiz after arriving at PREPA.
"The request was to find tangible efficiencies that could result in savings ... that people could measure them, and lead us into a broader transformation process for the future," Rosselló Nevares said.
In this line, they both said that the $ 26 million in savings will be used, for example, to cover PREPA´s day-to-day operational expenses, as well as to advance the public corporation´s reform process. Two months ago, the governor signed a law that allows the sale of PREPA´s generation assets and the fixed-term concession of transmission and distribution. They added that the money will also be used to "ensure" that PREPA´s employees retain their benefits, such as medical and retirement plans.
Ortiz also said that cuts did not entail penalties for PREPA, nor do they extend the termination of contracts.
💬See 0 comments