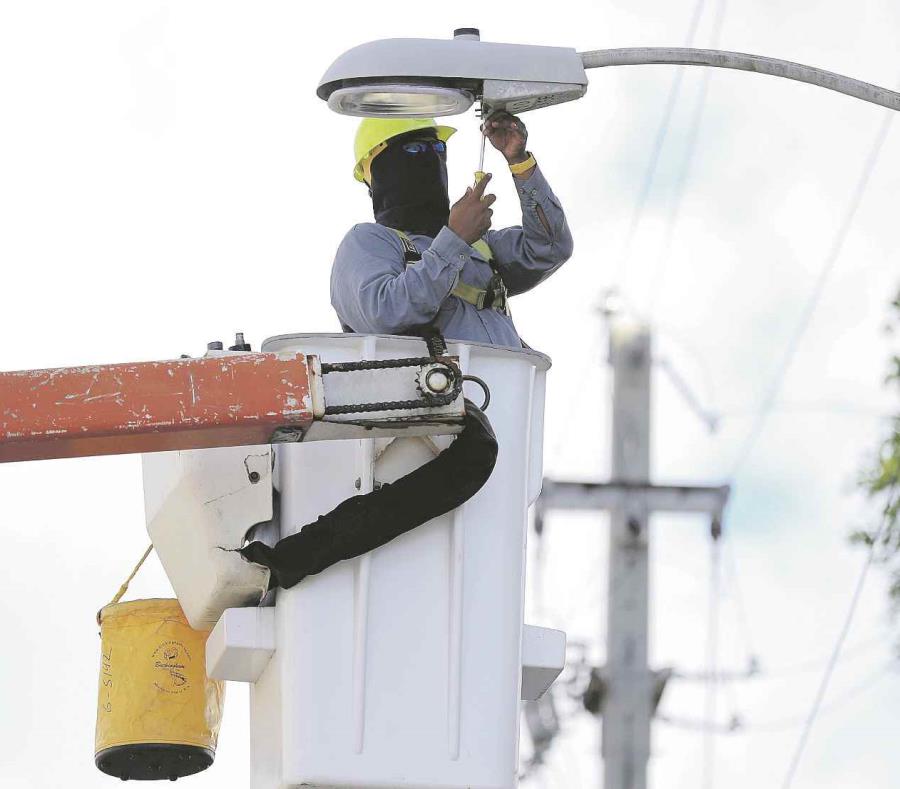 Repairing public lighting after the passage of Hurricanes Irma and María will take at least one more year, while permanent improvements in traffic lights, bridges and signage are just beginning and the government does not know when they will be completed.
Given this, both the Electric Power Authority (PREPA) and the Highway and Transportation Authority (HTA) asked the public for patience, while ensuring that the work will result in a better road infrastructure than that previous to the hurricanes, almost 14 months ago.
The Director of PREPA Transmission and Distribution division, José Sepúlveda, and HTA Executive Director Carlos Contreras also indicated that the cost of the works "is not a problem", since they are covered with Federal Emergency Management Agency (FEMA) and Federal Highway Administration (FHWA) funds.
"We will request a refund from FEMA because it is an emergency," said Sepúlveda, who did not give figures "because we do not have total certainty of the lighting that is not working, but we are talking about millions."
While Contreras said that permanent improvements in traffic lights, bridges and signage will cost "millions of dollars".
Safe roads
For lighting repairs, PREPA created the "Camino Seguro" (Safe Way) program, which is being implemented simultaneously in the seven regions of the public corporation.
At the moment, only internal crews are in charge of the works. They work three days a week, in 12-hour shifts. Repairs began between the end of August and the beginning of September.
"Each region has a plan, a four-week plan, on where we should be moving. The areas are identified both by the Authority and municipalities, based on priority criteria," said Sepúllveda, after detailing that about 1,500 lights are being repaired weekly.
How are these priorities established? asked El Nuevo Día, to which he replied that "it is a matter of safety".
For example, Sepúlveda mentioned that crews have already repaired "almost 100 percent" of the lighting in Condado, Puerta de Tierra and Old San Juan.
"That is our priority in the San Juan area because it is the hotels zone and an area of a lot of economic activity. Once we complete that, we will go to other areas of interest, both commercial and residential, there and in other regions. Also, we are giving priority to avenues with high traffic," he said.
However, Sepúlveda clarified that not all the lighting is PREPA´s property. Some belong to the HTA and others, such as ornamentals belong to municipalities.
PREPA already has a collaboration agreement with the ACT for lighting repairs, and Sepúlveda called municipalities to sign similar agreements, "as long as they have the resources for the works".
He said that "soon" they will open a bidding process to recruit local companies to help with the works and that foreign firms already contracted by PREPA will also join the task. He did not offer the names of these companies.
Lighting repairs include replacing "traditional" ones with LED technology (light-emitting diode), which are smaller, more efficient, consume less energy and reduce pollution. They also save on maintenance as they are more durable.
Likewise, if workers find poles in poor conditions, they fix them right away or coordinate a subsequent repair, said Sepúlveda.
"This is a short, medium and long-term plan, which may take us more than a year. Possibly, to fix all the affected lighting will last more than a year," he said, and urged citizens to report the areas that still remain in the dark.
"Specific measures"
Meanwhile, Contreras reported that the companies that will make permanent improvements to traffic lights in the 192 intersections in the five HTA regions "have already been hired".
"This takes time, because it requires design and plans. It is not just repairing the traffic lights, but to connect the communication and detection systems (cameras). Traffic lights arms must be done with specific measures, like the control cabinets with the computer that controls them. It's a more detailed work," he said.
He added that the companies – whose names he did not mention – have to acquire the equipment for repairs, "because none of it is manufactured here."
According to Contreras, they will also work on the repair of 161 traffic lights with damage to their electrical outlets.
There are other 40 municipal intersections with damaged traffic lights, which "affect state routes". Contreras indicated that "we are in talks" with FEMA and the municipalities so that the HTA also takes their repairs.
Once these permanent improvements are completed, the HTA "will open a competitive selection process" to recruit companies that will review the emergency works done to the more than 1,000 intersections traffic lights in the months immediately after Irma and María.
Regarding bridges, Contreras said that "the designers for the construction projects are already hired".
He argued that, before the repairs, they should do soil studies to determine susceptibility to landslide, in addition to hydrological-hydraulic studies to estimate the maximum probable floods.
"We have to make sure that new bridges are at the right height and not at the same they were before, because water rises and lifts them. That is what happens many times; it is not that the bridge falls, is the water that pushes it", he indicated.
He recalled that "about 20 state and municipal bridges" fell due to the hurricanes, and more than 400 landslides were reported on the roads, especially in the center of the island.
At the moment, the HTA is installing two temporary bridges. As well, Contreras stressed that when María hit the island, there were still temporary bridges installed after Hurricane Georges, in September 1998.
"It is important for the public to know that temporary bridges are safe and durable structures, but we prefer permanent ones because, in the long-term, they require less maintenance," said the executive director.
Regarding signage improvements, he said that "I also have the contracted companies" for the design of new signs. Specifically, there are 20 firms, hired at a cost of $ 25 million.
"Designers are doing inventories on the street. But we are also reviewing signs and direction signs, which are green and white, because a constant complaint is that they are not clear at indicationg the way. Now, we want to make sure that we have the right messages," he said.
Contreras said that "signs structures are very expensive," but reiterated that the works are covered by FHWA emergency funds.
He did not rule out that HTA soon "may have to bring companies from outside" Puerto Rico to join the work on traffic lights, bridges and signage.
"There is a lot of work for the next years. My priority is to hire local companies, but if we have to look outside, we will do it," he said.
Contreras said that, in parallel to these works, the HTA "is still working" in its "Abriendo Caminos" (Opening Roads) program, which seeks highways maintenance and reconstruction, at a total cost of $ 652 million. Improvements include paving, repairing concrete slabs and adjusting sanitary registers and storm drains, among others.
💬See 0 comments